It's not uncommon for a person to get their start in martial arts because a parent pushed for them to take classes. In that way, Dan Kersten shares the beginning of his martial arts story with many others: he joined taekwondo in part because of his father.
However, Kersten's story diverges there.
As a child, Dan loved spending time with his father, Paul. Technically, Paul was his stepfather – "but I never referred to him as (that)," Dan says. "He legally adopted me and treated me like his own. It never occurred to me to think of him as not my dad."
In the evenings, one of Dan and Paul's favorite pastimes was settling down to watch Kung Fu. The show featured David Carradine as Caine, a man raised by Shaolin monks in China. Caine is forced to flee to the American Wild West after avenging the wrongful death of his master at the hands of a Chinese noble.
Although Caine is a martial arts master, episodes often revolved around his struggle not to use force, and his desire resolve problems peacefully. When that approach didn't work (and it usually didn't), there was plenty of bad-guy-butt kicking action.
The younger Kersten enjoyed the show for the kung fu fight scenes and the nick-of-time heroism with which Caine saved the day. After the TV was off, however, Paul Kersten pushed his son to look for a deeper meaning in each episode.
"He talked about how David Carradine's character was a leader, but he didn't have to say he was," Dan says. "It's not about stomping our feet and punching and everything else. It's about how we carry ourselves in life. There is a time to fight sometimes, but it's when you've  exhausted all other avenues. My dad was never trained in martial arts, but he wove some life lessons in there."
Dan admits that those lessons sometimes went over his head. Still, he was hooked on the idea of martial arts. His family didn't have the resources to enroll him in classes, but watching Kung Fu seemed nearly as good.
As Dan grew into a teenager, he started to balk at Paul's insistence on teaching. Like most teens, he says, he felt like he had life all figured out. More than once, this rebelliousness pitted the two against each other. What Dan didn't realize at the time was that the lessons had already taken hold.
By then, martial arts had all but fallen out of the picture. Long gone were the evenings spend watching and discussing the latest episode of Kung Fu. Dan left the family home to attend college. He was busy with work, life, and planning for the future.
In 2000, Paul Kersten was diagnosed with amyotrophic lateral sclerosis (ALS) or Lou Gehrig's Disease. ALS is a progressive neurodegenerative disease that attacks the nerve cells in the brain and spinal cord. Sadly, Paul passed away just two years after his diagnosis.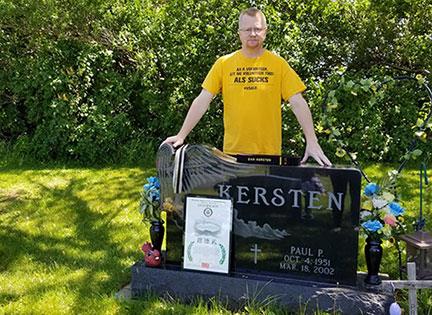 Kersten at Paul's grave.
The loss hit Dan hard. However, he took some comfort in knowing that he had been able to visit Paul on his deathbed and apologize for, as he puts it, "being a butthead all those years."
A few years after Paul died, Dan himself became a stepfather, marrying a woman with two children. It was through the younger daughter, Teagan, that Dan got his second introduction to martial arts.
Like his father Paul, Dan took an active role in his stepchildren's lives. Part of that role entailed coaxing Teagan into an extracurricular activity at the local YMCA. She dragged her feet, waiting to sign up until only two options remained: flag football and taekwondo. She was adamant that she would not be playing football.
Any reluctance Teagan had felt about starting taekwondo soon vanished. She was eager to attend classes every day. Even when the YMCA's instructor retired, and classes there ceased, Teagan didn't want to quit.
Instead, she and her parents when looking for another school. They found Championship Martial Arts in Appleton, Wisconsin.
Out of curiosity, Dan and his wife began staying to watch Teagan's classes. Championship also offered lessons to adults, which piqued Dan's interest. Before long, both he and his wife signed up and were on the mats.
Dan quickly discovered that, while the movements and strikes he was learning were new, the mindset endorsed by taekwondo was one he was already familiar with. Along with physical skills, the instructors taught mindfulness, self-control, and respect for oneself and others: tenets Paul had fished from episodes of Kung Fu.
Through training, Dan found a new connection to his stepfather's memory. After Paul passed, Dan became a regular donor to ALS research and awareness charities. But taekwondo felt more personal, especially since his family, whom Paul had never got to meet, were participating alongside him.
In 2015, the instructors at Championship attended the Martial Arts SuperShow. This event is held each year by Century Martial Arts and the Martial Arts Industry Association, and draws martial artists, instructors, and dojo owners from around the globe. In addition to seminars and training opportunities for gym owners, the show often features special guests.
One of the activities at the SuperShow was a board breaking fundraiser in honor of Kevin Thompson of Team Paul Mitchell Karate. Thompson is best known for two reasons. First and foremost, he is a legend in the world of sport karate. In his time as a competitor, Thompson won every major award and was a Triple Crown winner, mastering forms, weapons, and sparring.
Thompson is also known for his work raising awareness for ALS. His career was cut short by his own diagnosis with the disease in 2012, and along with his fellow Team Paul Mitchell members, he created the Kevin Thompson Board Breaking Challenge to raise awareness for ALS.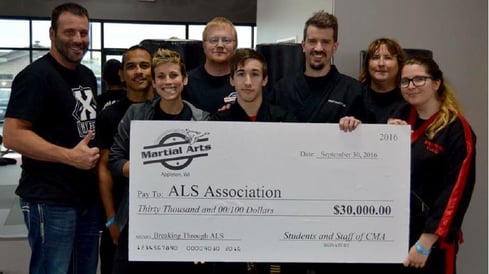 Members of Championship, including Dan (center back), celebrate a fundraiser.
Similar to the famous Ice Bucket Challenge, the Board Breaking Challenge invites participants to break a board, make a video, and post it online. The 2015 SuperShow featured a massive boardbreaking event, with attendees invited to participate. The instructors at Championship participated and took videos of their activity.
Championship's instructors were so moved by Thompson's story and by the board break, they relayed it to their students as soon as they were back from the show, showing the videos from the event. Dan knew immediately he had found a way to combine his passion for martial arts with his commitment to fighting ALS.
He started asking his instructors what he could do, and what planning it would take to host an ALS event at Championship. Before too long, Dan and Championship had something set up: a fundraiser with a special bonus. The participant who raised the most money got a special private lesson with Team Paul Mitchell competitor Tyler Weaver, another big name in sport karate.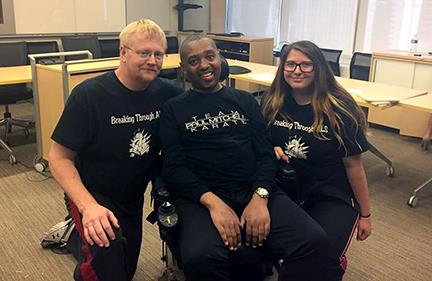 Dan Kersten, Kevin Thompson, and Teagan. 
From there, Dan's efforts only grew. By fall 2016, he was hosting an ALS fundraiser in New York, supported by with a business vendor he worked with. Teagan was also on hand to help, and Kevin Thompson and his family were in attendance. Thompson, now using a wheelchair, broke a board to rounds of applause.
"It all come together," Dan says. "It's emotional for me to talk about it even now, because it was such a surreal experience, that, here's the man who started Break Through ALS, and we're taking it and running with it from here in the Midwest. I'm doing whatever I can – we're kind of making it up as we go."